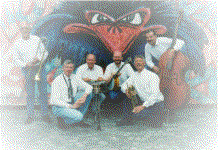 With the band from the beginning were:
trombonist Dr. Manfred von Ingersleben, a dermatologist
trumpeter Hans-Christian Döring, a managing director in real life, and
bassist Dr. Günther Leupold, as a lecturer at Weihenstephan a specialist in the purity of musicians' main source of nourishment.
Later they were joined by
the banjo player "Conny" Griebel (engineer) after 3 years
the teacher, clarinettist and saxophonist Manfred Hochmann after 4 years
and the drummer and engineer Rolf Häusele after 10 years.
Unfortunately, in 1997 Conny (banjo) was forced to leave the band for health reasons. He was succeeded by
Gerhard Rehmann, a mathematician, who was a known quantity, having already deputized for Conny.
Dieter Müller-Sohnius (physicist and mineralogist) took over as the reed player in 1998. Dieter also answers to Müso.
The Charivari Jazz Band today:
Hans-Christian Döring, tp,voc,g; Manfred v. Ingersleben, tb; Dieter "Müso" Müller-Sohnius, cl, ts; Günther "Poldi" Leupold, b,voc; Rolf Häusele, dm; Gerhard Rehmann, bjo,g; (Photo of the band, JPEG, 37kB)
Rolf had to quit for health reasons. Since 2019 Jan Falckenberg is the new drummer of the band.
Musicians can talk for hours about the tools of their trade. To try and shorten this unavoidable process, the following lines introduce their most salient features.
Trumpeter Christian exposes his and our eardrums to a Stradivarius, type "Medium-Large 43", from Mr. Vincent Bach.
Manfred teases his silky smooth glissandi from a King trombone.
Müso's saxophones are lovingly crafted by Selmer een ze Frensch capitalle Parrrih. The clarinet is by Buffé.
Gerhard plucks his unique harmonies from plectrum and tenor banjos from OME, with occasional diversions via a National Style "1" tenor guitar from 1932.
Rolf's hands, feet and elbows meet a drum kit called Ludwig, and …
… Poldi says his bass is made of wood.