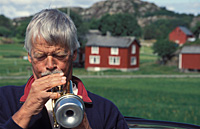 In the Year of Our Lord 1978
At a jazz brunch in Munich, an enthusiastic member of the audience who had "played this kind of music as a student" took up the trumpeter's instrument. After only a few notes, lack of practice made him nearly faint. Another member of the audience, watching him gradually collapsing, helped him to his feet again: "That was great. I'm a clarinettist: we should start a band."
Thus was the Charivari

Jazz Band born. The two soon found four other instrumentalists to form a band consisting of trumpet, clarinet, trombone, banjo, bass and drums by December 1978. All not-quite-so-young amateurs who had played jazz in their younger days.
At first they just played for the hell of it, but gradually the urge to perform in public became irresistible. After the first gig in a pub in Machtlfing one thing was clear: the band needed to play in public. Without the goal of regular performances it would gradually fall apart.
As these things happen, Christian Döring, the trumpeter, was given a tip-off that the then publican of the pub-restaurant Gasthaus Böck in nearby Unterbrunn might be amenable to the idea that jazz evenings were what he had been waiting for all his life. In fact he was not easily convinced, but ...
3rd November 1979 was the big day. The Charivari Jazz Band performed for the first time in the atmospheric hall at the Böck. "The hall was packed, the swing swung and the audience loved it". The initially sceptical publican booked the band's next gig then and there. 25 years later, band leader Christian found a newspaper article of those days.
The Charivari Jazz Band has played every second or third Saturday in the Böck in Unterbrunn ever since, and "Dixieland in Unterbrunn" has become a well-known brand beyond the Starnberg-Munich area.
The most recent highlight in the band's history was organized by the Toll House Jazz Band from Columbus Ohio: a tour of the USA, birthplace/homeland of jazz, in October 1998. Read the unofficial diary for more.
Within just a year, in July 1999, they were together again: the Charivari Jazz Band and the Toll House Jazz Band joined up for a series of gigs in the Munich area before playing together at the Bruneck Jazz festival in South Tyrol, Italy.